Spend Spend Spend, Union Theatre, London
SPEND SPEND SPEND,
GRANNY – BRUCE FORSYTHE – BANK MANAGER
UNION THEATRE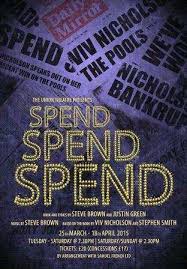 Scraping by on seven quid a week with her husband and three kids in a tiny terraced house in Castleford, Yorkshire, Viv Nicholson's life was as near rock bottom as it could get. Until that day in 1961 when Viv borrowed 5 from her Mam to play the Pools and she was catapulted from obscurity to fame with the biggest win ever – £152,319 (£5 million today). And that was it, Viv and Keith's lives changed overnight and Viv declared to the world she was going to spend, spend, spend. 'Booze, big cars, big spending, big headlines' and a succession of husbands soon led to bankruptcy. From rags to riches and back to rags again, a gritty and poignant musical about the extraordinary story of a brash and naïve, northern lass.
Reviews:
'Durham is blessed with an exciting ensemble of performers able to deliver the goods' – Musical Theatre Review
'the rest of the large multi-talented cast moved about the stage beautifully – thanks to excellent direction by Christian Durham and choreography by Heather Douglas – changing character at the drop of a hat – or the donning of a tabard – to animate the various people moving in and out of Viv and Keith's lives'.